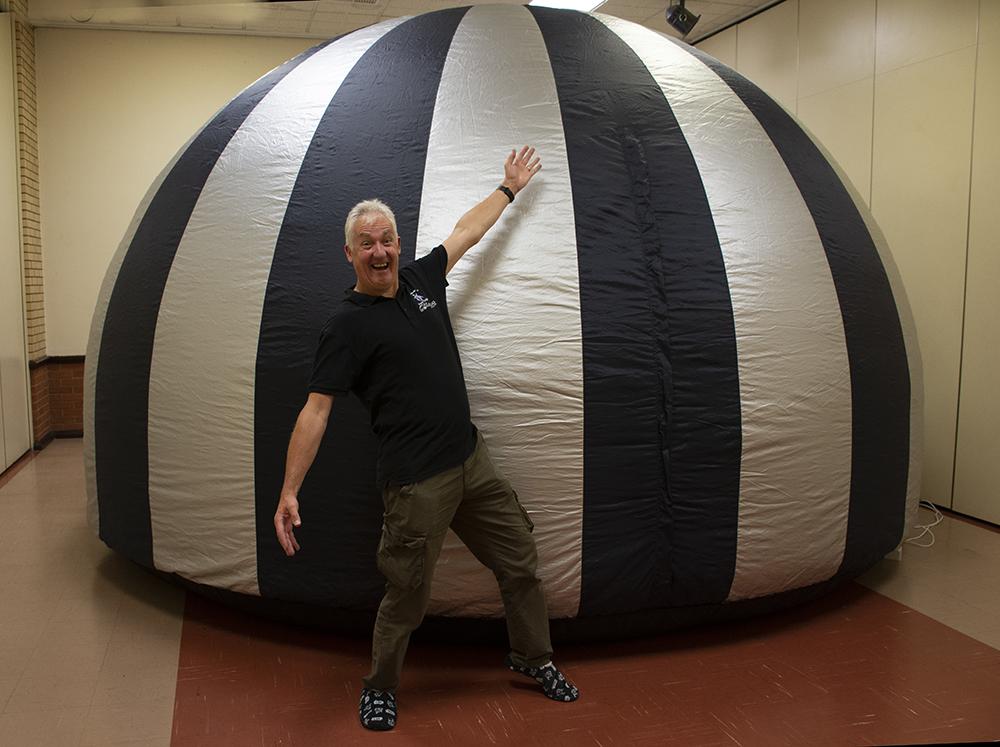 Using State-Of-Art digital projection, our mobile inflatable planetarium can be bought into schools and other organisations, such as Astronomical Societies, Brownies, Scouts and other organised events.
Click here to contact me to ask questions or book an exciting planetarium visit for your school or event.
My audience-interactive, presenter-led planetarium shows reproduce the night sky in all its glory underneath the darkened planetarium dome.
Sit under a full sky of stars, see The Milky Way and go on a tour of the night sky as seen during different times of the year. Hear some of the mythological stories of the constellation and be wowed by many astronomical sights, concepts, facts and figures.
All the planetarium content has been specifically designed to educate and entertain all ages and levels of astronomical knowledge.
A maximum of 25 people at a time can be accommodated in each planetarium show.
Up to 6 planetarium shows can be performed a day.
PLEASE NOTE:
Our 5m planetarium needs a lot of space and a clean floor to be set up.
The room size needs to be a minimum size of 6 metres x 6 metres and a height clearance of at least 5 metres. A school hall or gym is ideal.
If you would like my planetarium to attend your event, click on the E Mail address below to contact me:
dave@star-gazing.co.uk
I have a current DBS Certificate, but all children attending must be accompanied by a parent or teacher at all times during the planetarium shows.
All our electrical appliances are routinely checked for safety.
They undergo an annual In-service inspection & testing of electrical equipment (PAT Test), to ensure complete safety.
Here's what schools say about my planetarium and visits:
"Dave came to our Space Day in February and it was absolutely fantastic. He did Planetarium shows for each class of the school which were all tailored to the age group and previous learning of the groups, a brilliant STEM assembly to the whole school and a bottle rocket workshop for our KS2. All of the children were excited and engaged throughout and were all in awe of the wonderful pictures and videos that Dave showed them. They have not stopped talking about Space Day since and we can't wait to have Dave back again as soon as possible! We cannot recommend Dave highly enough – Thank you for such a totally fantastic day!"
"Thank you so much for your assembly and workshop yesterday. The children were really buzzing about it and have been talking about all the facts they learned, as well as about how much fun they had! We are all very grateful to you for giving your time to get our Space Week started in such an exciting way!"
"The children all really enjoyed it and I thought every part was pitched perfectly got them with lots of awe and wonder. Many thanks"