In the early hours of Thursday, the 8th of December 2022, The Moon moved in front of (Occulted) Mars. This rare event last occurred in 1952; the next one to be seen from my location will not be for another 20 years. So I had to stay up to see and capture this event.
I went out the night before to take some practice images using the setup I had decided to use.
I used my Sky-Watcher 120ED Esprit, with a 2x Barlow Lens and a ZWO ASI224MC camera.
It was an extremely cold night, with a sharp frost, but once everything was set up, focused and running I could monitor and control everything from my PC in the warm house.
All the processing I used is explained in my High Resolution Lunar & Planet Imaging Guide.
Mars was predicted to disappear behind The Moon close to crater Grimaldi and reappear on the opposite limb close to Mare Smythii.
My three practice images are shown below.
Once I was happy with all the settings used and the scale of the images, I went to sleep at about 23:00 UT to get up at 04:00 UT ready for the event to start just before 5:00 UT.
I got up well before time as Mars was starting to approach The Moon.
I started taking fairly short 30-second videos to capture images prior to the occultation.
Being a short length, this should give me fairly sharp images.
This was the result of one of those images.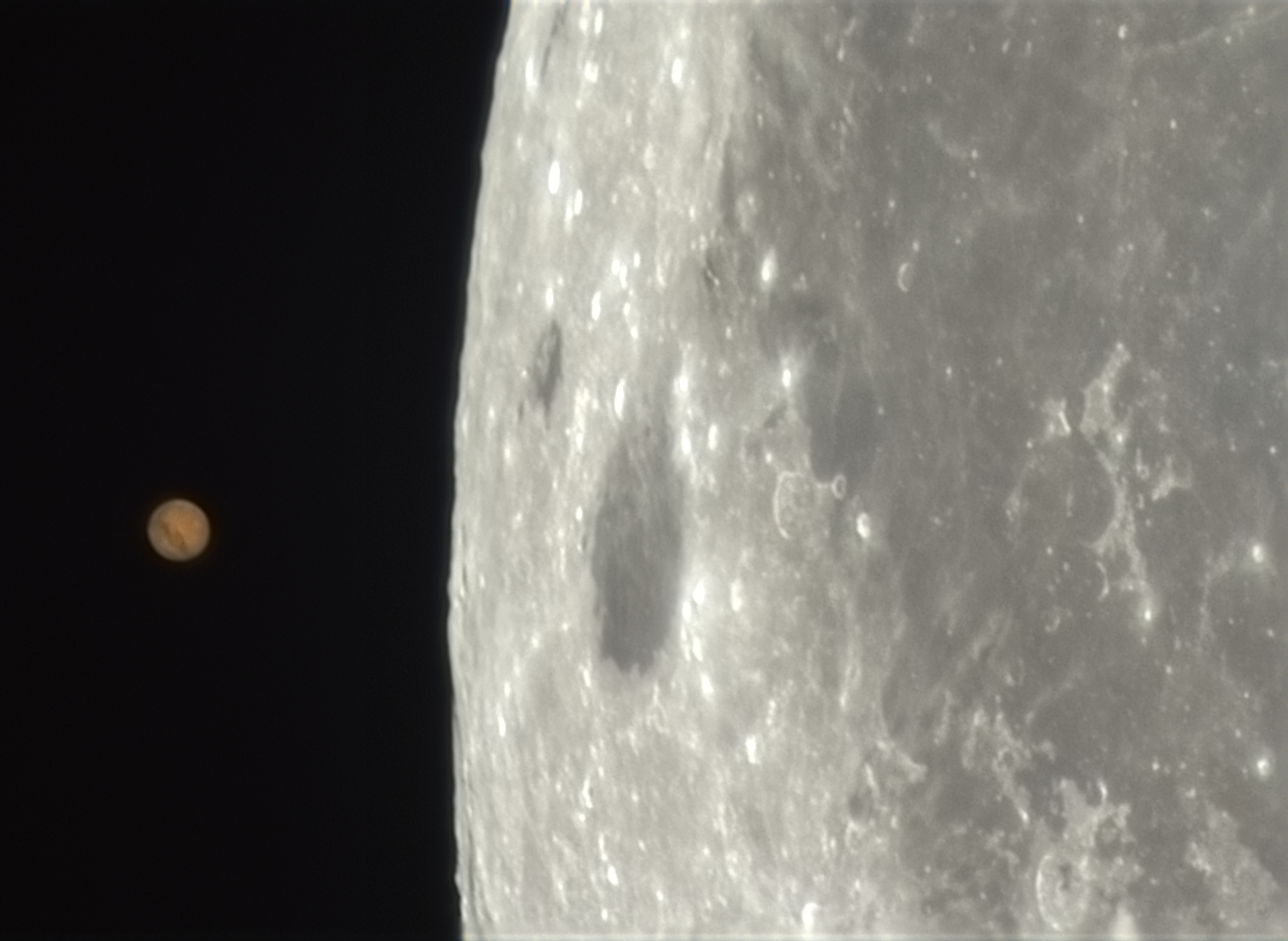 Once The Moon was close to Mars, I started a long exposure to capture a complete video of it disappearing behind The Moon's limb.
I knew this length of video would cause problems with extracting the individual images, as the relative movement of Mars and The Moon was fairly high.
I used the Limit tool within AutoStakkert! to cut the video into small sections and stack those.
As a result, the quality of the image isn't quite as good as the first one as less individual frames were used in the stack to produce the image, as you can see below.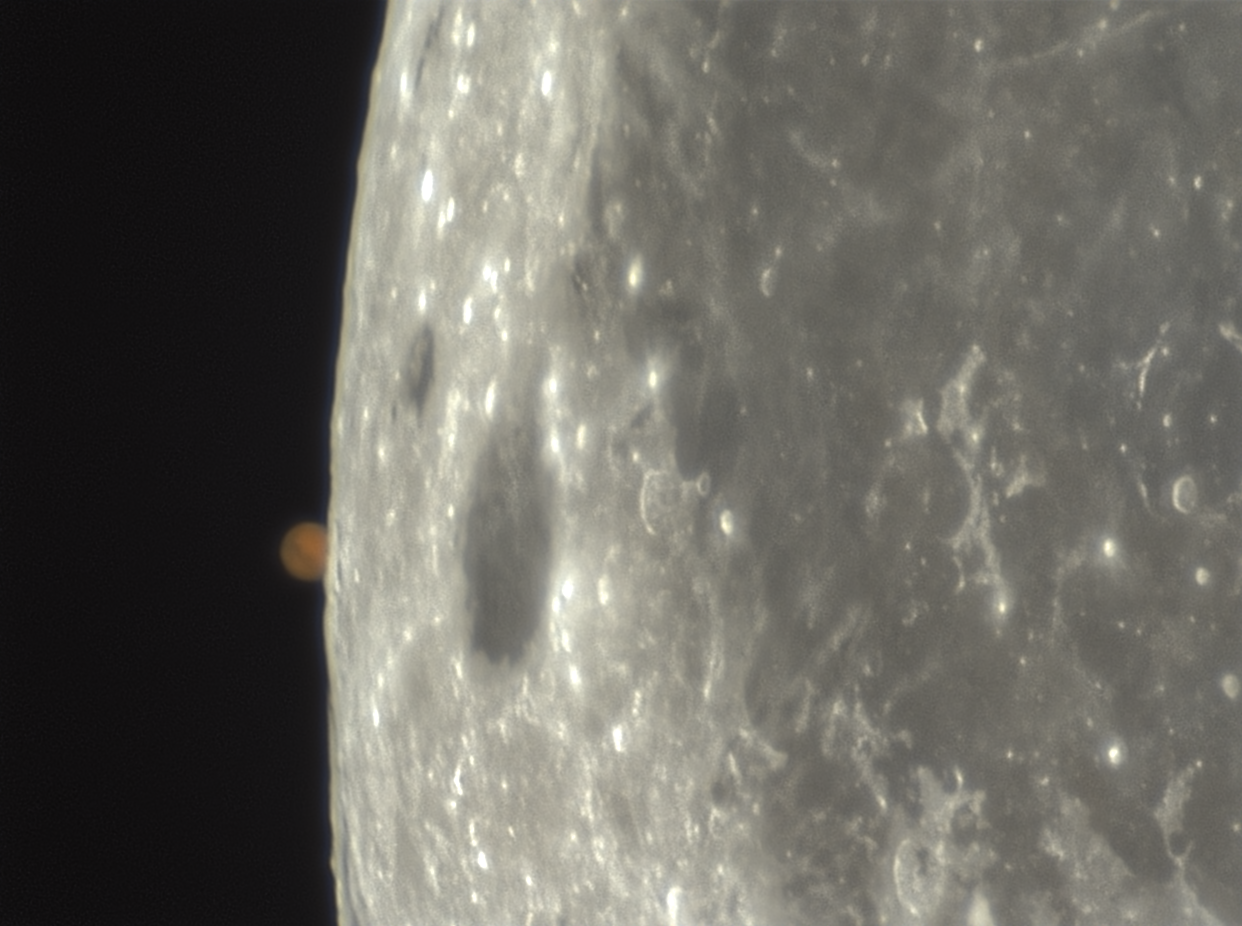 I used the sequence of images produced to create this animation.
(Pity it pixelates the images).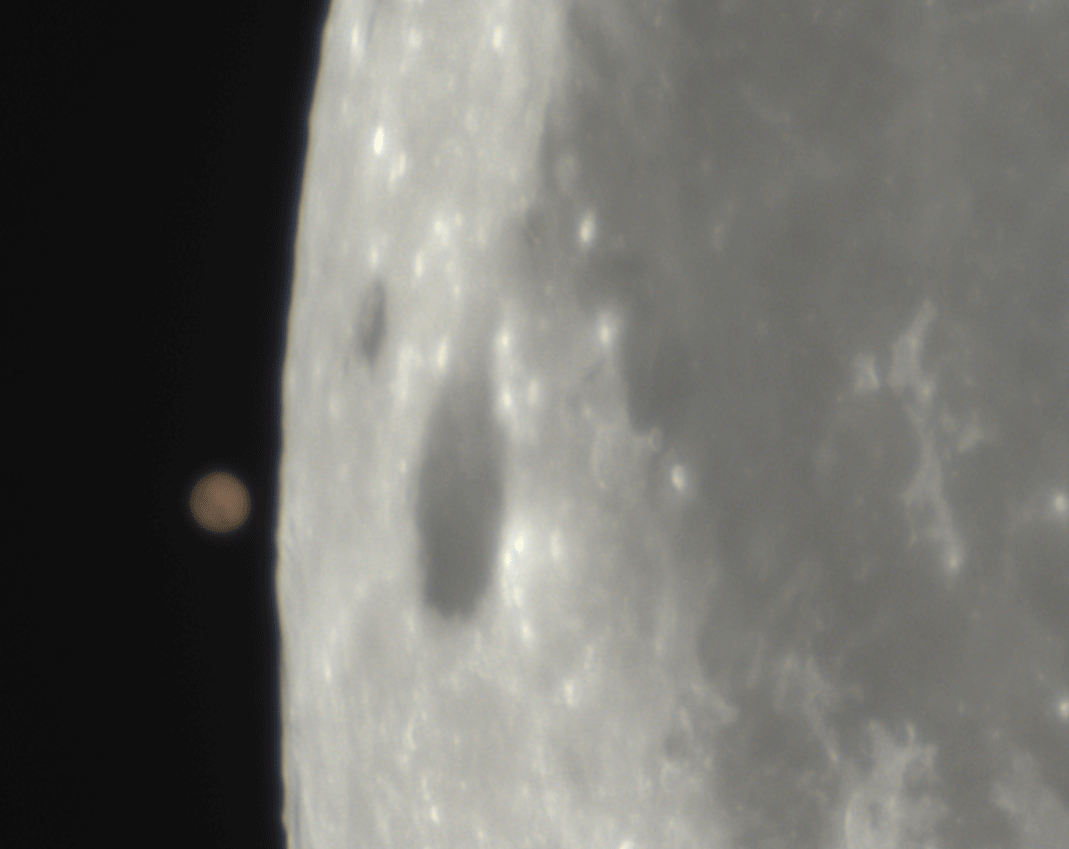 And used some of the individual frames to produce the progress image below.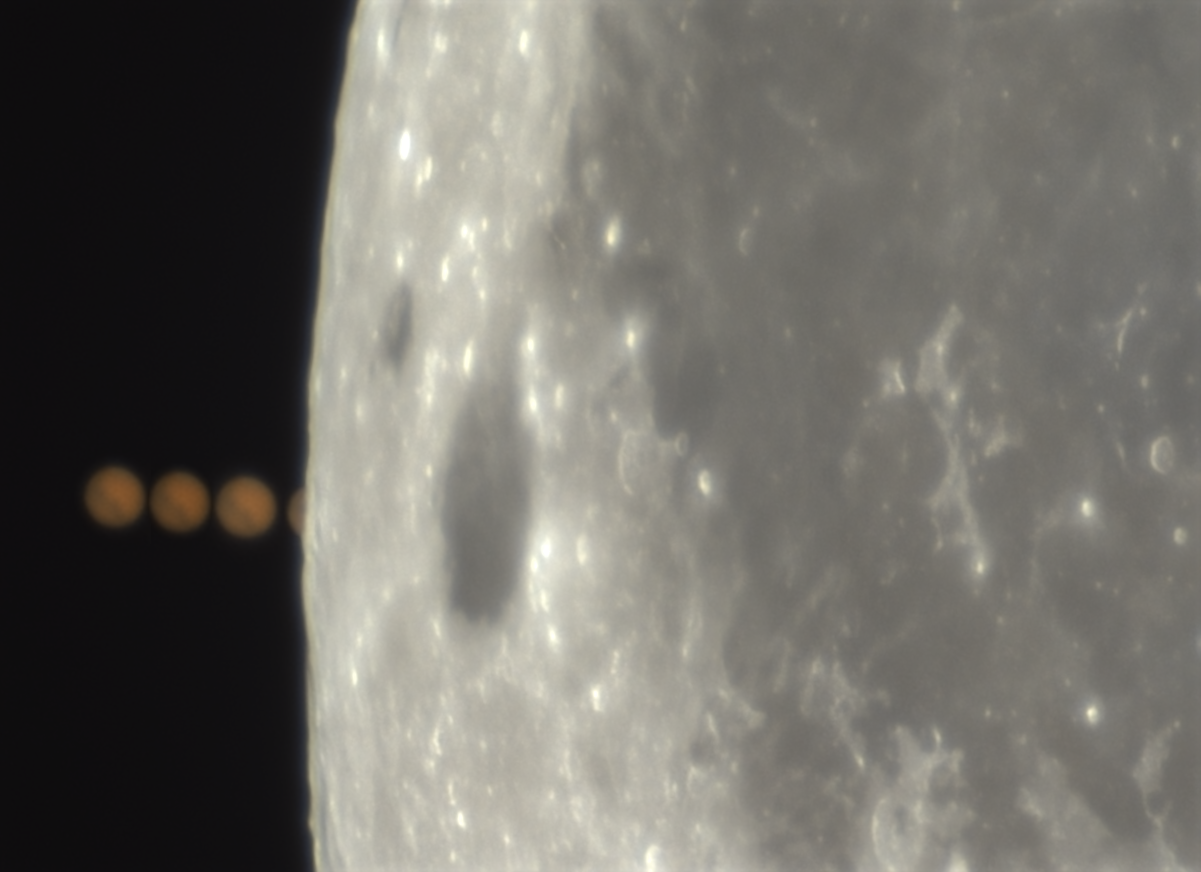 As egress approached I noticed that focus needed tweaking.
I soon found out why after checking outside. Mars was going through the neighbours tree.
Luckily most of the branches were bare.
I persevered, and right on cue and in the position shown in Sky Safari and Stellarium, Mars reappeared.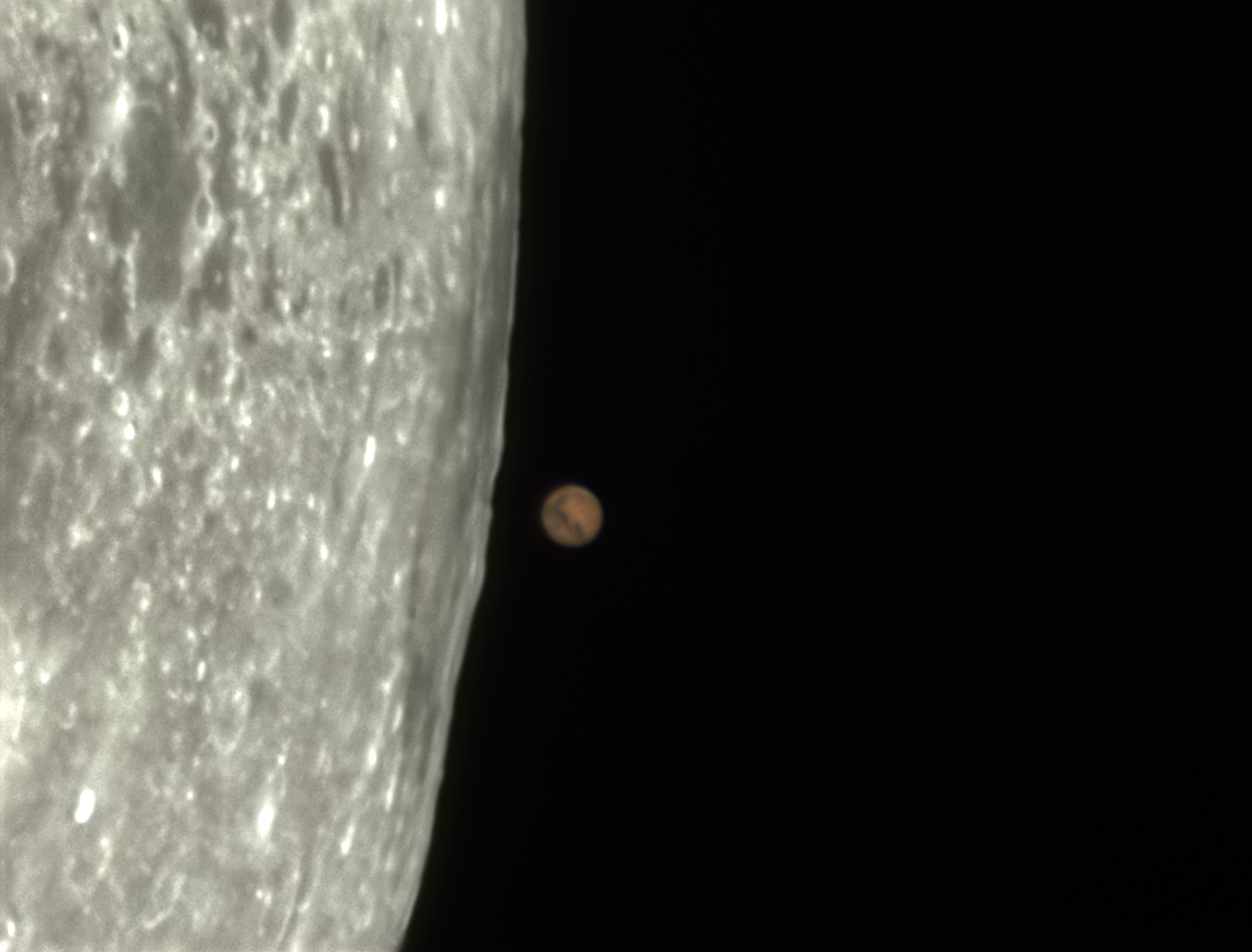 Animation with pixelated images.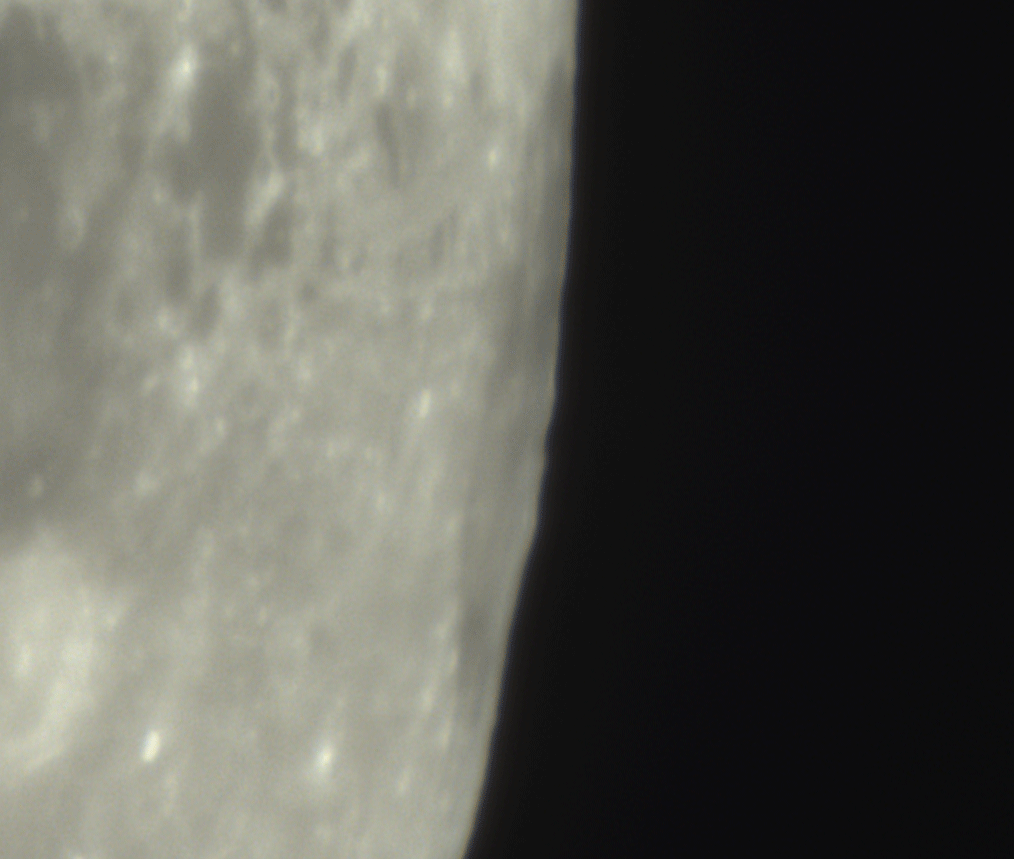 Progress image.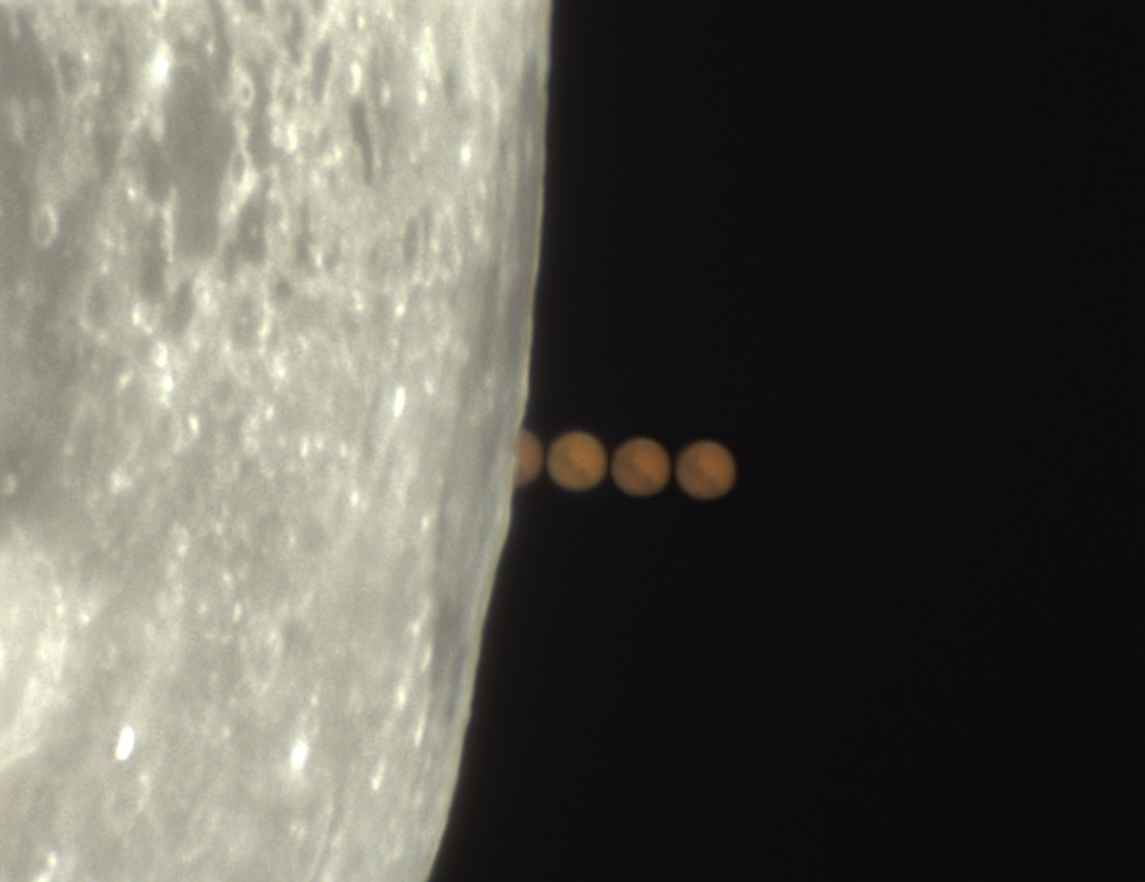 As I started packing the scope up, clouds were starting to cover The Moon.
It doesn't happen like that very often.