I am constantly looking at different methods of processing images to develop better workflows and improve my images.
This is so I can see what different things work, and continue discovering new ways of processing images to improve the images.
When do process my images, I always try as hard as I can to make them look as natural looking as possible.
I always instil in people who attend my astrophotography workshops NOT to over-process their images.
As you can imagine, being such a purist, it really drives me mad to see so many really over-processed images popping up online and on social media, with all sorts of processing artefacts visible. But I am starting to think that I might be missing a real trick here.
In the early hours of the 20th of April, I was coming to the end of a short imaging session to capture Comet Leonard and some mono images.
I was desperate to try and get some RGB data to attempt a colour image with the setup I am trying out, but was short of bright objects to try it on.
I could see that Hercules was fairly high by this time, so despite the gathering murk, I though that I'd grab a few shots of The fantastic globular cluster M13.
I quickly rattled off a few shots using the three different coloured filters with the ZWO ASI183MM mono camera.
Now onto the processing.
It was never going to be a show-stopping image under those grotty conditions, but at least I got some RGB data to play with.
So, how did it turn out? The results are below.
The top image is a standard process using my tried and trusted technique.
The bottom image takes the processing a bit further, enhancing the brighter stars and their colours.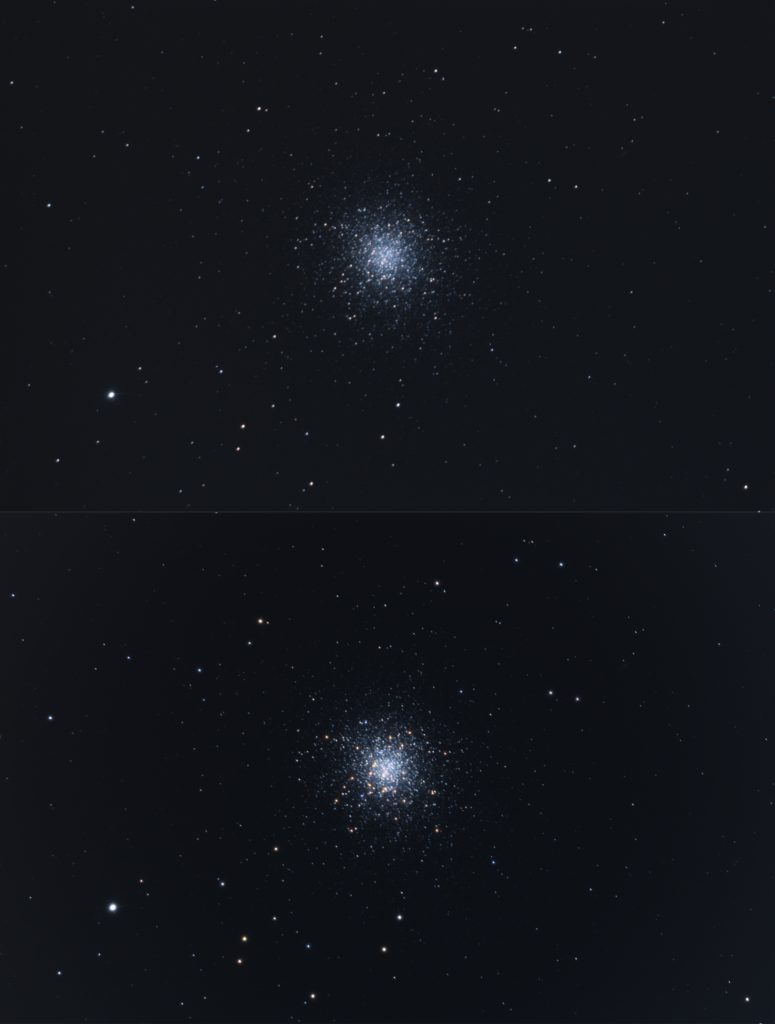 The bottom image, to my mind is well over-processed, but I felt that it does have something about it.
As an experiment, I thought I would put it to the test and posted them both on social media, asking which image folks preferred.
Apart from a few that liked the more natural looking top image, the vast majority of people who responded favoured the bottom image.
So this really was a eye-opener for me.
Does that mean I need to over-process my images to get more likes and shares, or should I stick to my principles?
What do you think folks?