As we cannot attend astronomy clubs at the moment, let's all have a get-together online.
The free Zoom Virtual Astronomy Club will run at 7pm (BST) on a Tuesday and Thursday.
Follow the links at the bottom of this page to join in all the astronomy fun and keep sharing the passion for our hobby.
We can chat, rant, or share what we've been up to with the clear skies we get.
I have also organised great speakers for some of the next few meetings.
---
If you would like to download Julian Onion's slides from his Dark Matter talk on Tuesday the 24th of March, click on the image below.
Thank you very much Julian. Very much appreciated.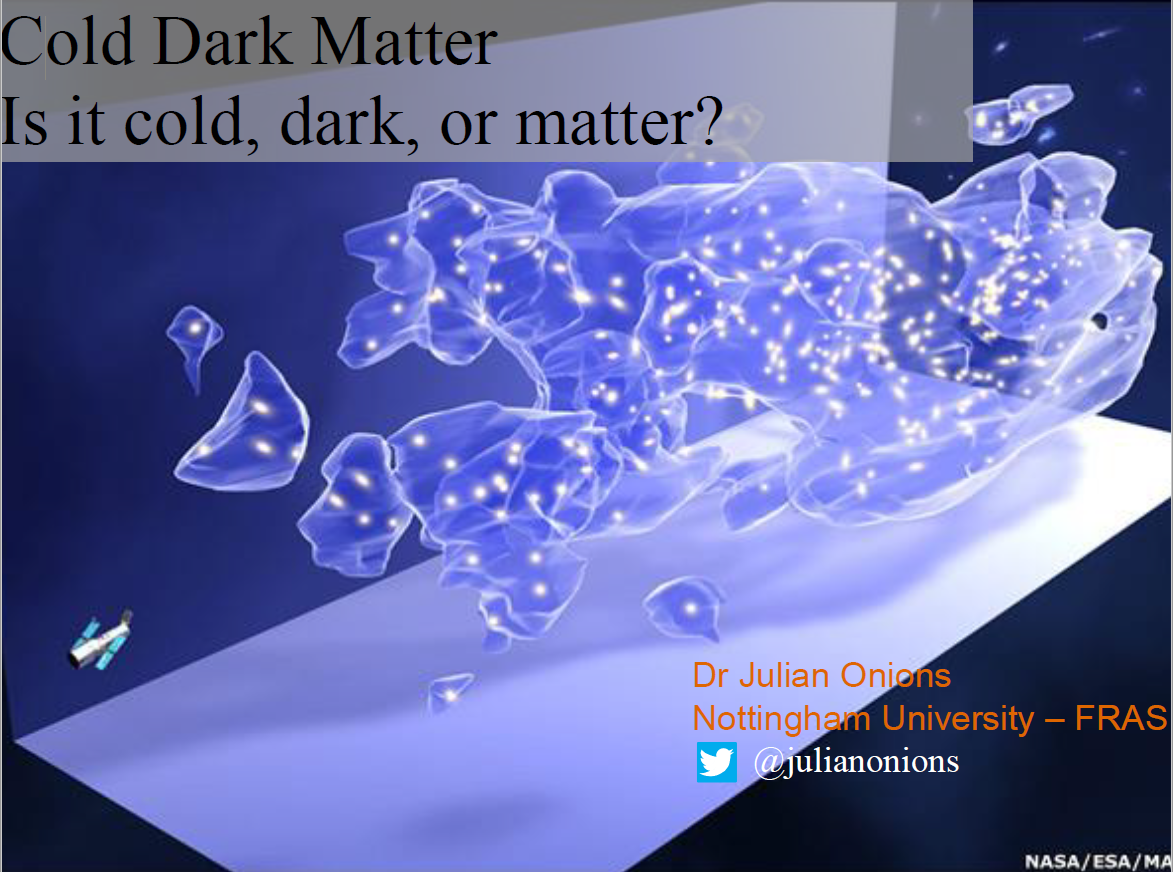 ---
Coming Meetings.
TODAY
Tuesday – 31st March. 7:00pm (BST).
Shaun Reynolds
Shooting The Milky Way.

TOMORROW
Wednesday – 1st April. 12:00 midday (BST).
Solar Webcam Image Processing Demonstration.
I will be doing a live demo of how I take and process my solar webcam images.
Join the Zoom Meeting at midday: https://us04web.zoom.us/j/382157621  Meeting ID: 382 157 621
Thursday – 2nd April. 7:00 pm (BST).
Steve Tonkin
Two Eyes Are Better Than One.
Tuesday – 7th April. 7:00pm (BST).
John Spencer (New Horizons Science Team Member).
A Billion Miles Beyond Pluto: New Horizons Explores Kuiper Belt Object Arrokoth.
Thursday – 9th April. 7:00pm (BST).
General chit chat plus show us what you've all been up to or seen online.
Astronomy-wise, that is. OR does anyone want to volunteer?
Tuesday – 14th April. 7pm (BST).
Terry Lovejoy (Comet discoverer extraordinaire).
Subject TBC.
Coming Soon.
Szabolcs Nagy (Space Station Guys – @metrolinaszabi).
ISS Imaging Demonstration

---
If anyone else would like to present something, show their pictures, share what you've seen online, or anything else astronomy related, please do feel free to join in the melee.
If you have any ideas for the club, pitch right in.
Sessions for the basic package I am using only allow a 40 minute meeting.
So if you have a presentation it will need to be about 30 minutes long.
At intervals we'll also try and do some live streaming through the telescope.
If you have the setup to be able to do this, please let me know.
I'm hoping that it will feel just like attending a real club and bring a little bit of "normality" back into our lives and help us keep sharing our passion for astronomy.
So if you want to be part of this, come and join us.
Everyone is welcome.
Virtual Zoom meetings have been organised for 7pm on Tuesdays and Thursdays.
We can organise more if there is enough interest.
Let me know if you need some guidance on how to get Zoom set up.
If you are thinking of organising one yourself, let me know and I can add yours to the list for people to join in.
Note: Only 100 people can join using this basic package, so get yourself into the waiting room a little bit before the start time to avoid being locked out.
Join the Virtual Astronomy Club meetings by clicking the links below.
No password is required for the meetings.
See you all online soon.
Keep Looking Up!
Dave