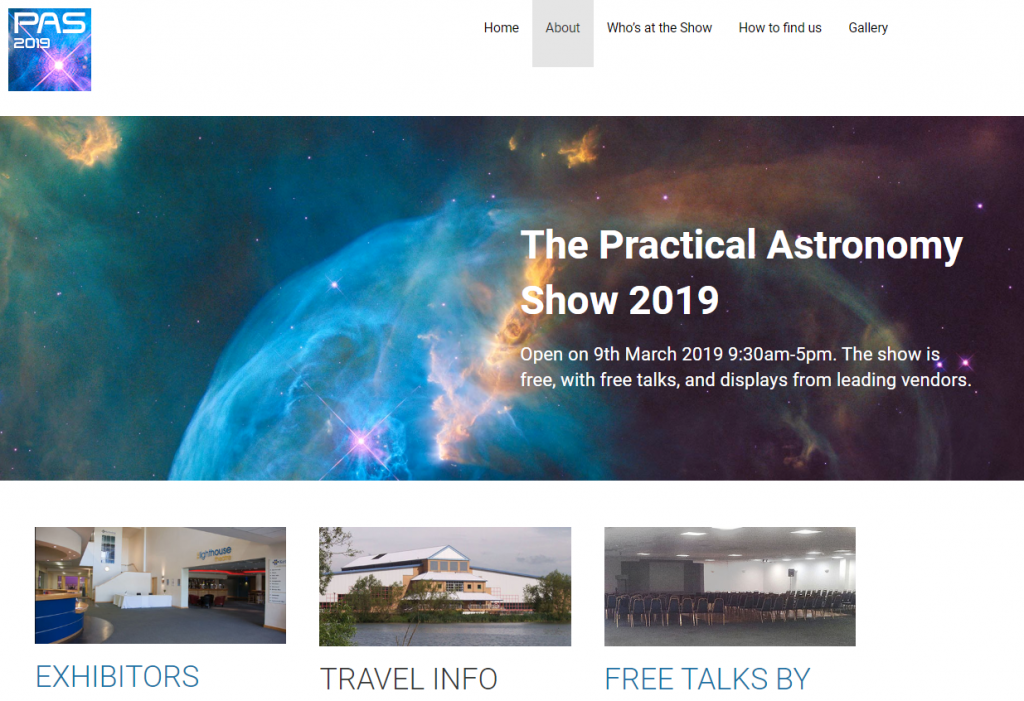 The Practical Astronomy Show comes to Kettering, Northamptonshire.
https://practicalastroshow.com
A FREE, yes I did say FREE whole day of practical astronomy.
What's not to like?
The Practical Astronomy Show brings a selection of leading astronomy businesses, organisations and educational institutions together under one roof, for one day.
Astronomy products and services will be available for purchase from various stands.
Organisations involved in astronomy education, outreach and tourism will be available to meet and greet the general public.
I will have a small stand at the show.

As well as selling my books and promoting presentations and planetarium, I will have lots of hands-on fun for visitors as well.
This will, of course include the ever popular whiff and feel of comet 67P and some new 3D astronomical images.
I will also be promoting all the local astronomical societies in my area.
If your society would like me to hand out some leaflets, please let me have them.
A list of the main attending vendors is at the bottom of this page.
As well as the trade stands displaying lots of astronomy goodies, there are a number of free talks as well:
Dr Paul Abel

– UK Visual Astronomer.
Dr Robin Glover – Author of SharpCap PRO image capture software.
Gary Palmer – UK Astrophotographer.

Damien Peach

– UK Astrophotographer.

Niels Haagh

– designer of the unique Panther mount.
EXHIBITION STANDS – HALL
Exhibitor stand numbers so far…
F1 Altair Astro / iOptron / Pegasus
F2 Widescreen Centre
F3 Tring Astronomy Centre
F4 Orion Optics
F5 Rother Valley Optics
F6 Starlight Xpress
F7 365 Astronomy
F8 Peak2Valley Instruments / Saturn Instruments
F9 Ian King Imaging
F10a Gary Palmer Astrophotography – Speaker
F10b Dr Robin Glover SharpCap PRO – Speaker
F11 Altair Astro
F12 WW Astro
EXHIBITION STANDS – GALLERY & PENDEEN
Exhibitors so far…
656 Imaging
Teleskop Schutzbauten
Space Rocks
NPAE Precision Astro Engineering
MSG-Meteorites
BAA – British Astronomical Association
Campaign for Dark Skies
Online Astronomy Society Academy
Webb Deep Sky Society
BBC Sky at Night Magazine
International Astronomy Show
Star-Gazing (That's Me Folks!)
Tim Treadwell